Letters
One of the best magazines I've read so far.
Donnie Chambers
OffRoad Ohio, Roseville, OH
---
Thanks for bringing us such a great magazine!
Kyle Singleton
Texarkana, Texas
---
FINALLY, someone publishes a worthwhile 4x4 magazine! Thank you!
Joe Risser
Atascadero, California
---
Awesome magazine! 'Bout time we got one on our coast.
Brad O'Neill
Philipsburg, Pennsylvania
---
Low-Range will be a great addition to the other mags I get.
Matt Connolly
Cal 4 Wheel
Huntington Beach, California
---
Can't wait to recieve this mag!
Cory Stine
Cincinnati, Ohio
---
My fanatic friends wouldn't let me rip out a page from your magazine to subscribe. Please sign me up!
Judd Nolf
Sarver, Pennsylvania
---
Looking forward to the arrival of my first issue!!
John Kates
Southern Jeeps
Cumming, Georgia
---
Looking forward to my subscription, heard great things about your mag!
Dave Wehnert
Lafayette, Colorado 
Dear Low-RANGE: Last week I picked up a copy of your magazine at my local Barnes & Noble. It has been a long time since I have subscribed to a 4WD magazine of any kind.
Great action photography and gorgeous trail shots as well. Writing and editing is intelligent and good natured. You are doing an outstanding job with this publication.

Matt Hickey
Lincoln, Nebraska
---
Dear Low-RANGE: Last year, Tread Lightly! conducted a series of surveys to decipher why motorized riders stray from designated trails. Their answer was clear. The top reason people said they left trails is because they think their ride will be "more challenging and more fun" despite the potential environmental damage they may cause.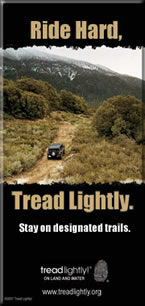 These results inspired the creation of a new public awareness program called "Ride Hard, Tread Lightly." The campaign, which focuses on motorized outdoor recreation, concentrates on changing the perception that environmentally- sensitive riding isn't fun. "Being responsible doesn't mean being boring," the public service announcements state. The announcements also encourage specific behavior, such as staying on the trail, using a map and washing vehicles.
Without your help, the campaign is useless. But with your support, these critical messages can empower hundreds of thousands of outdoor enthusiasts to keep the outdoors beautiful, healthy and open to the public.
Warm regards,
Monica Clay
Tread Lightly!
---
Dear Low-RANGE: I just received a copy of your Issue and was very pleasantly surprised with what I found — great articles and fantastic pictures!

I've been looking for a magazine like yours for a long time. Already looking forward to the next issue! Keep up the good work!

Walter E. Murphy, Jr.
Bartow, Florida