Products
Warn Industries —
The Endurance 12.0 Winch
Warn Industries announced the release of its new Endurance 12.0 winch which features 12,000 lbs. of pulling capacity, a mid-frame design, and an innovative forced-air-cooling system for increased performance.
The specially designed cooling fan (which is remotely mounted under the vehicle's hood) automatically turns on when the winch's motor reaches a certain temperature; it can also be manually activated. The fan sends air through a hose running into the winch's motor housing, cooling the motor. The air then flows out of the motor housing via a second hose and the air is discharged.
The Endurance 12.0 has other features including a contactor for increased durability, and a high-speed, three-stage planetary geartrain for dependable operation. For corrosion resistance, the winch wears a durable, glossy-black powder-coated finish. Much of the hardware, including the clutch lever, is stainless steel for added protection against the elements. The Endurance 12.0 also features top-of-the-line winch sealing designed to keep water out.
This year Warn is celebrating its 60th anniversary. Back in 1948,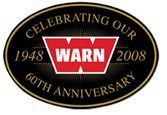 Warn Industries began in Seattle, WA when Arthur Warn developed a revolutionary locking hub system allowing surplus World War II Jeeps to operate in two-wheel drive for civilian use. This invention created the hub industry and not only made the vehicles more drivable on the street but also improved fuel economy. In 1959, Warn developed another revolutionary product; one that would transform the face of off-roading as we know it: the electric winch. Warn winches and hoists are sold throughout the world.
---
Camping Lab — Rooftop Tents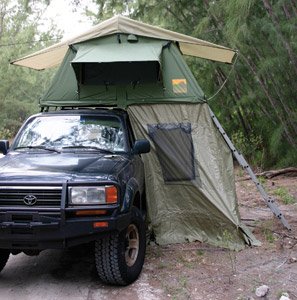 Campinglab rooftop tents are made of lightweight laminated polyester ripstop canvas. The stairs, structure and base platform are all made of aluminum. When closed the rooftop tent is protected by a pu coated polyester cover. This combination of materials makes for a very light and durable rooftop tent.
Campinglab rooftop tents come standard with interior pockets, mosquito netting on all windows and doors as well as a fixed flysheet, that combined with the ventilation hoops prevents condensation. The rooftop tent side windows are protected by ample awnings, that keep excessive sun out and allow to keep the windows open even during heavy rainfall allowing for proper ventilation regardless of the weather.
Contact: Camping Lab, 4960 NW 165 Street, Unit B21, Hialeah, FL 33014; Tel: 786-489-8258; Web: www.campinglab.com