Departments
Products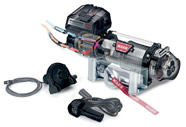 The WARN® Endurance 12.0 features 12,000 lbs. of pulling capacity and a specially designed cooling fan which is remotely mounted under the vehicle's hood. Click Here 
---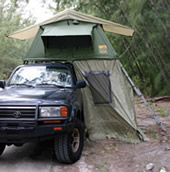 Camping Lab rooftop tents are made of lightweight laminated polyester ripstop canvas.
Click Here 
---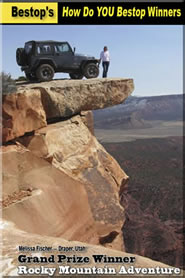 The Bestop Grand Prize winning photograph and story was sent by Melissa Fischer of Draper, UT. Melissa will receive a Rocky Mountain Adventure for Two along with story coverage in Bestop's National Ad campaign for 2008.
---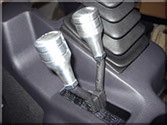 Advance Adapters
Mounting a twin stick in your Jeep TJ just got a bit easier! Advance Adapters now offers an Atlas cable shifter kit specifically for Jeep TJ owners.


On the Rocks: Off-roading TV Show Catch an episode of On the Rocks on The Outdoor Channel primetime on Monday nights. The cast includes Del Albright, BlueRibbon Coalition Ambassador and contributing writer to Low-RANGE Magazine.
---
GUEST CONTRIBUTOR — Del Albright
"Go Green" with Your Outdoor Recreation
Ok, don't shoot me, but I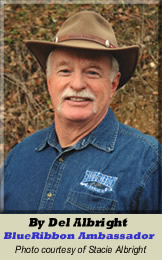 want to suggest a type of "Go Green" for four-wheeling and other types of motorized recreation. If you're a regular reader of Del Albright, you know I'm not anything related to a "greenie" or anti-access radical protectionist – in fact, I'm the opposite. But something has come over me lately. It's similar to nausea, but there may be something here worth suffering for.
Everywhere I look I see this "Go Green" stuff. Businesses, advertisements, magazines, TV commercials and our esteemed government agencies are constantly getting all warm and fuzzy with this trendy stuff. Heck, if I believed all the brainwashing we're being lambasted with today, I might just fit in better with the trendy crowd. But I don't! And, I'm not sure I want to.
I drive an off-road rig that loves to spank rocks. Yeah, for sure I stay on the trail and wheel conscientiously; but I'm not about to convert to some ultra radical type dude that claims to be saving the world when in fact they usually do more harm than good. I am an outdoor motorized recreationist who is responsible and ethical.
---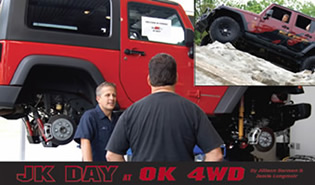 OK4WD, located in Stewartsville, New Jersey, held its first ever "JK Day" for new and existing JK owners. Jim Oostdyk, the owner of OK 4WD, provided a presentation of the Pros and Cons of the new JK platform, JK Service Tips, a lift kit installation and a discussion of aftermarket parts available along with a Q&A session. After lunch, JK owners tested their new Jeeps on the OK4WD obstacle course.
On October 5th, OK4WD held its 15th Annual Oktober Truckfest. There were 19 classes, 20 specialty trophies and a $200 grand prize to the top winner! The show is free for all spectators, and proceeds from this event will benefit Camelot for Children. For more information, visit www.OK4wd.com
---